---
Just like us, our pets each have unique traits that mark their personality; a mischievous glint in the eye, a curious tilt of the head, or funny ears that perk up at the first sign of fun. Or perhaps your pet swims through water waving the most beautiful fins! No matter who your best mate is, I love getting to know them as I draw their unique likeness and apply it to what I hope will become your favorite everyday mug or holiday ornament.
---
Sweet and Simple Mugs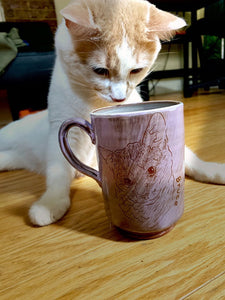 How Pet Custom Mugs Work
I'm a one women custom mug making shop outside of Asheville, NC. 
All pet mugs are unique and made to order with a 1.5 month lead time. 
Here's how it works: 
1. Order in my web shop, submit your photos & additional info
2.  I'll send you a sketch via email and you approve or request changes
3. I color the mug, carve your pet into the clay's surface, and fire in my kiln
4. Your brand new custom pet portrait mug arrives in the mail!
[Photo: Bruce approves of his portrait mug]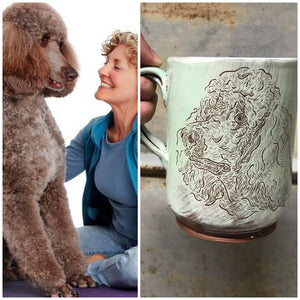 Customer Testimonial
Dear Emily,
I've been wanting to reach out to you since my husband presented me with the gift to honor Teddy, my beloved canine soulmate. It brought heartwarming tears to my face upon receiving it. I'm so touched by his thoughtfulness and your beautifully drawn image of my precious boy! 
Read More
---
Extra Special Mugs
---
Sitting Pretty Pet Ornaments